2020-06-25
Our design process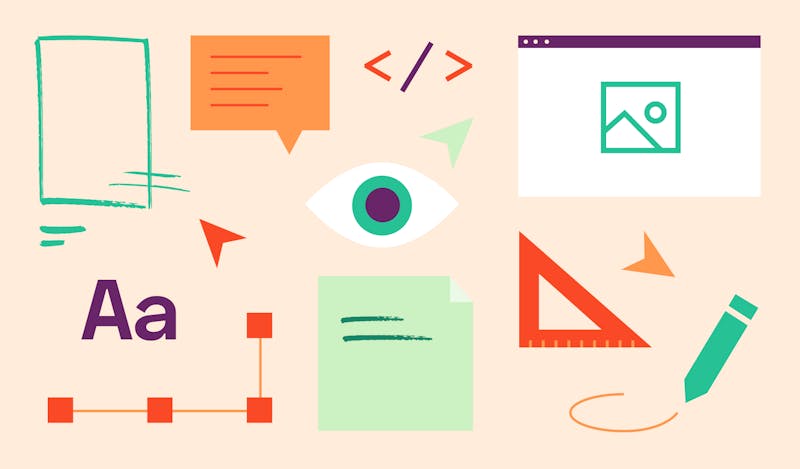 We get a lot of questions from our clients about how our design process works. What do we want from our clients? What services do we provide? How involved do clients need to be in the process? What responsibilities do we take on? 
The answers are never quite the same, since every client is unique and we want to make sure our clients are heard so that we can create amazing things together. We do however have a process outline that has proven to be ideal for most clients that we'd like to share.
1. Brief 
The first thing that happens is that we get a brief from the client. This should define what problem they want us to solve. The more information the client can provide, the better the design will fit their needs in the end. This information will be the difference between using a ready template and getting a custom design – which will provide a better user experience and most likely secure a greater result.
The relevant information we want specified is: limits, target group, goals, timeline, budget, assets, content, specifications.
We want to create together with you.
2. Planning & Estimate
Once we have the brief we will estimate what we will be able to do, in what time, and create a timeline for the project. This estimate may be finessed throughout the project as new requirements come to light, as part of a transparent collaborative process with the client.
3. Research
The purpose of this phase is to gather as much information as possible, and how long this takes will be decided by the budget, and the initial information given by the client in the brief. Design research can take anywhere from 30 minutes to several weeks, the time spent will be agreed upon with the client. The forms of research we've provided in the past have been analyzing data, specifying goals, target groups, limits (technical, timeline, budget etc), and creating strategy and content. To include a UX perspective we have performed user research, defining user journeys, and held interviews. 
Mockups made in Figma
4. Sketching 
When we have all the information we need to start mapping out the design, we'll do wireframes and sketches to show the client examples of what could be done. It's also helpful to create a styling draft - in the form of a moodboard or something similar to provide the client with a bigger picture of our idea, without having all the content ready at once. In this step it is also important to confirm what content we need.
5. Share first draft (sketches and wireframes) with client
This headline is pretty self-explanatory. For designing we use Figma; it's an easy way to share files and for clients to make comments to the design. Why and how we use Figma is another blogpost all in itself. 
6. Continue doing more refined mockups
Taking into consideration the feedback we get from the client, we'll do refined mockups that better simulate the final product.
7. Review design mockups (often divided in smaller parts)
We go over the design mockups both with the client and with our development team. We consider it a huge advantage to work close to the developers and from their feedback be able to do small changes during the design process that will cut a ton of extra work during development. The design is often divided into smaller parts to make it easier for ourselves and the clients to discover points for improvement along the way.
In this stage we also make sure everything works from an accessibility perspective. 
Website design for Ligna Energy
8. Present all mockups → 9. Get approval from client  → 10. Start implementing design
This process is what gives us the authority to start development on the design we have agreed upon with the client. 
11. Give design feedback on implementation
As we said before, one of the big advantages working with us is that our designers and developers work close together. This means it is easy for us to take responsibility throughout the entire process all the way to the final release. This doesn't entirely leave out the client's involvement - we want to make sure our clients know they are an important part of the process. 
12. Done! Launch
13. Follow up
Of course, it is up to the client to choose how much time they want us to spend on designer follow up. We could even do follow ups after the release! Such a follow up could include analyzing how the design improved the product as well as the need for additional adjustments. 
Sometimes we need to break out from our own set design process to get creative or come up with an even better way of doing things. But this is usually the ideal skeleton of our design process. Do you have a project you want us to check out? Reach out!
Skrivet av Elin Hesselstrand, Elin Sundberg