Hatstore is a global headwear ecommerce based in Sweden. To keep up with their advancements in the global market, Hyperlab's been tasked with rebuilding their ecommerce from the ground up using Crown Framework. With better performance and maintainability, we help enable their continued journey to become the home of headwear for customers all over the world.
Hatstore's renewed ecommerce has...
Faster loading time
Every millisecond matters in e-commerce, and with Crown Framework, we succeeded to reduce the loading time from over 2 seconds to a subsecond page load.
Decreased page size
With users all over the world, it is essential to keep the page size to a minimum. Why waste users' data plans?
Increased AOV
An overall lift in the project with best practices and accessibility has led to 15% higher Average Order Value.
Numbers calculated by comparing old site and new site via Solardom's Pingdom Tools.
A company with high ambitions
In just a decade, Hatstore has grown from a small business in Sweden to a global player in the headwear space. Over time, as the business grew, their e-commerce needs also became much more complex.
One of Hatstore's biggest assets is their extensive catalog of products. What started as a small 10 m² warehouse (it all fit under a queen-sized bed!) has expanded into an offering of more than 17.000 exclusive and premium products.
To ensure the highest quality possible, Hatstore is in control of its entire chain of production — starting with a high-tech production powered by state-of-the-art machines in their Kalmar factory. Customers are also encouraged to let their creativity flow by designing and personalizing their products.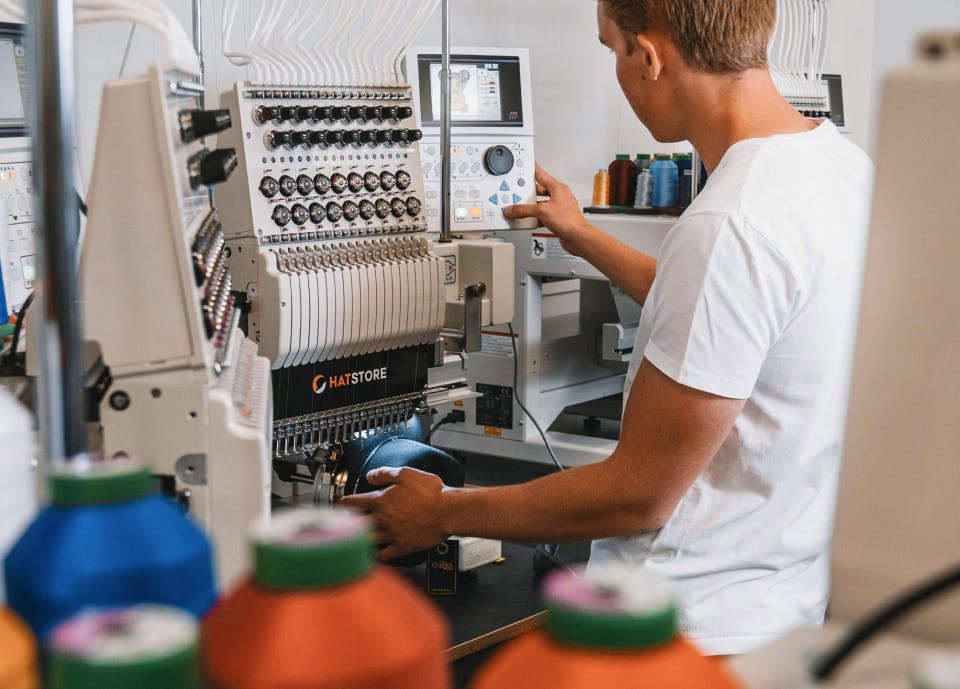 The modern machines at Hatstore's factory in Kalmar, Sweden.
Complex site with great range of products
The large product database creates some interesting challenges when it comes to managing the site's complex menu structure. It's important to rely on UI and UX design, and a good Content Management System (CMS), to make sure users can find exactly what they need when navigating the storefront.
Another critical point is internationalization. Selling in different markets means managing content in different languages and handling multiple currencies.
Focus on page speed and page size
To compete in the global ecommerce sector, in addition to a great business vision, Hatstore needs to ensure a smooth and fast experience for users anywhere in the world. According to research [1], if a page takes more than 4 seconds to load, users are likely to abandon the site and never return — making the page loading time one of the most important metrics for ecommerce websites [2].
This becomes even more relevant when talking about mobile site visitors: as page load time goes from 1 to 10 seconds, the probability of a visitor bouncing increases by 123% [1]. Given that over 73% of all retail sales worldwide are now generated via mobile devices [3], a slow page load time directly correlates to a significant loss of sales.
Since optimizing users' internet connection speeds is out of reach, Hatstore chose to focus on web development best practices: reducing page loading times and page sizes.
This is where Hyperlab comes in. Our flagship ecommerce framework Crown and our team of developers provided just the right balance between performance and flexibility.
Backed by the latest front-end technology and cutting edge performance techniques, our developers managed to achieve near instant page loading times and greatly reduce page sizes, which was Hatstore's biggest priority. Crown's headless and scalable architecture also made it easy to integrate all of Hatstore's external services — and now they can easily switch out and upgrade any of those systems as their business grows and their needs change.
Another facet in this overhaul included an improved CMS. Hatstore's staff can now easily maintain and update the site, despite a complex menu structure and the site's many different languages.
By closely working together and listening to our client's needs, Hyperlab achieved a really optimal Time to Market: in only six months, Hatstore's new global storefront was live and the sales were rolling in, with a measurable increase in the average order value.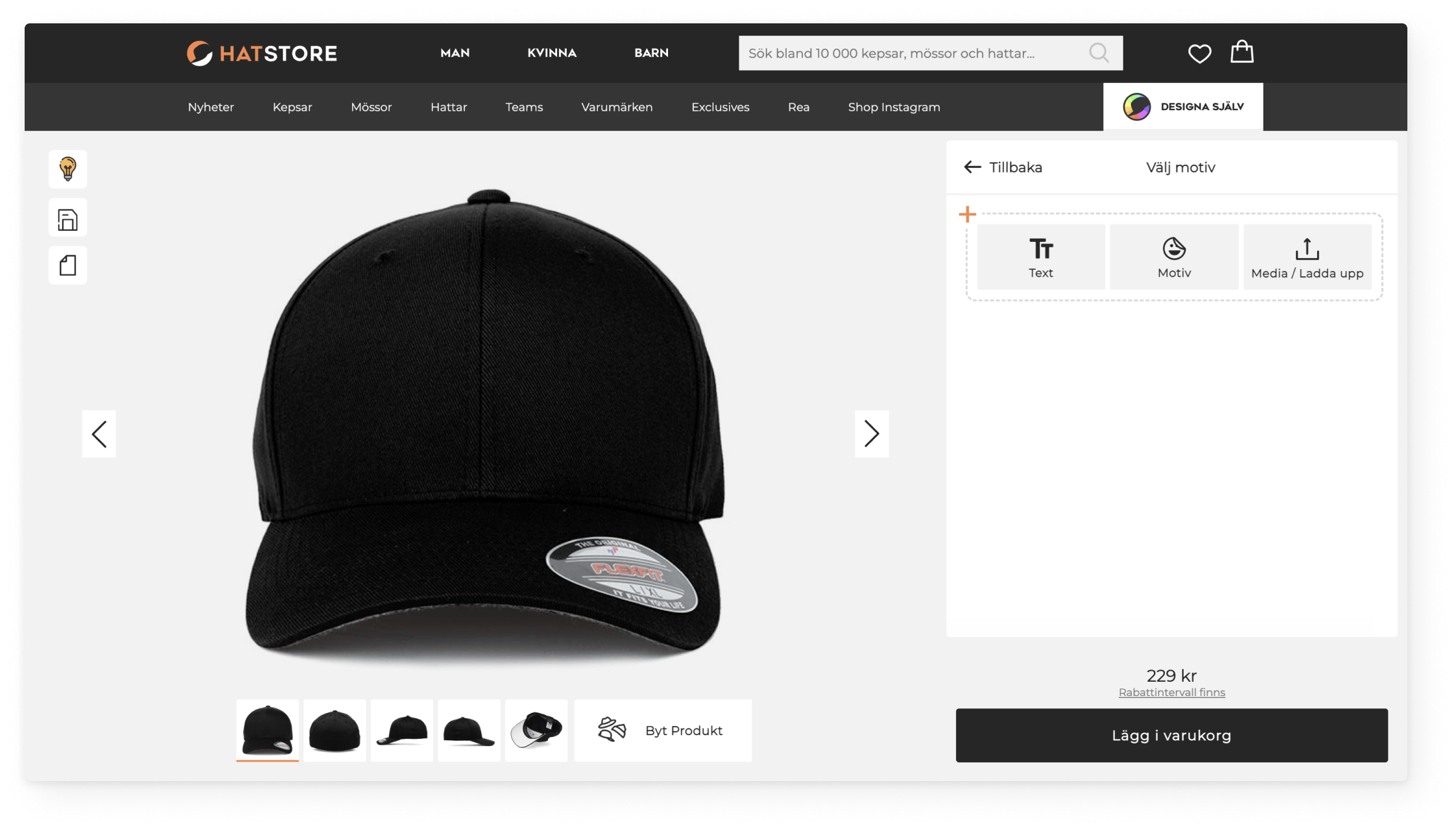 One of Hatstore's features "Designa själv" (Custom made) where customers can design and personalize their products, integrated with Crown.